I would probably never fancy myself wearing a kurta to the office but today being Diwali, was an exception. The drive to the office on a Diwali eve is always joyous as the smell of burnt Sulphur and clarified butter, clearly seem to dominate the olfactory nerves. You might say that it's a bit of a dampener that Bangalore doesn't get dressed as most parts of northern India. But we unanimously thought of a cool way to subside the effect….Ethnic Day!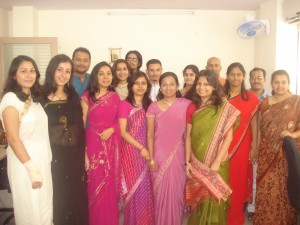 What we did was, make it obvious that Diwali eve would be an ethnic eve and every employee was to drape in their regional colours!
Tattered jeans and a rugged kurta was the closest that I could come towards being regional.  But kudos to my colleagues, for managing to deck up in their latest ethnicities.  The girls exhibited the vivid floral patterns in their 'sarees 'and the guys were found sporting bright kurtas. As usual, this time around as well the girls should have taken the cake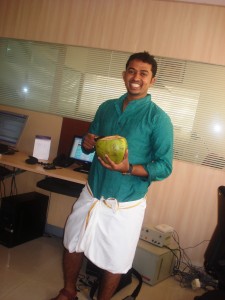 when it came to the attire, but there was a twist…. Or should I say a 'Malayali' twist! The show stopper of the evening was our very own Sales Manager, Risto! Not only did he win the accolades, but by a large margin was the biggest head –turner of the evening!
Risto's pyronics were soon followed by Sanjeev, our CEO, personally wishing everyone a safe and happy 'Diwali'. The huge sweet box along with every wish was expected, but what was not was this really cool travel bag.  Although it was me who had placed the order for the bags, I always thought it was to be gifted to our channel partners. Well Sanjeev's got this knack of throwing really cool surprises for the employees! The strong essence of clarified butter was seeping through the sweet box, but Diwali was incomplete without Sulphur combustion!  As agreed, we all gathered downstairs at the wee hours of the evening for a little celestial show, before we finally dispersed.
"The rockets soared and lit the sky,
As the evening blues bid a bye.
The chakris danced and flower pots swayed,
And the string of bombs then  started their raid.
The wreaths of laughter packed as fun
A moment of bliss, as we all stood one….."