What can one expect when any festive season draws closer? Leave aside preparations, one eagerly waits for greetings, meetings with loved ones, and above all, gifts. Christmas is just one among them. More than just preparations, looking forward for distributing gifts (or can we say receiving gifts!) is the most anticipated activity. Coupled with mouthwatering festive delights and traditional drinks, the festival takes a high towards the end at the grand Christmas feast. A similar celebration, though on a smaller scale, was organized at our Delhi office on December 23rd 2012, before everyone could head for the festive weekend. What was more thrilling and captivating was the participation and connection of every member, despite the difference in the positions.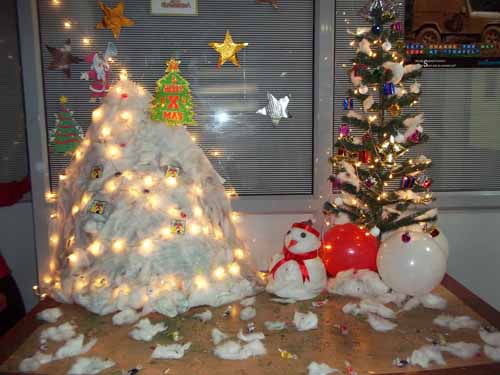 As I stepped up to the entrance of my workplace on the morning of December 23rd, I got a little skeptical as the office was not the customary place I used to visit each day. Flanked with Christmas ornaments and festooned with colored lights, the entry was a grand one. Placed a few steps ahead was a Christmas nativity depicting the onset of snowfall, decked with an embellished Christmas tree. Scattered with candies and lights, the nativity scene reminded me of the birth of Jesus Christ in Bethlehem. A couple of footsteps towards my seat left me amazed as the entire organization was bejeweled in complete festive mood. Donning red and white apparels, all known faces started pouring in as office timing drew closer; red and white was the dress code for the day!
I was busy compiling my reports for the week at around 5 pm when I heard laughter and applauds all around me. Before I could even turn back and analyze the miss-n-blink incident, I realized that a fat and tall guy dressed in red and white standing behind me was shouting "Oh Oh Oh!!!! Merry Christmas" It took me a few seconds to swallow down the short incident, with butterflies still playing hide-n-seek games in my belly. Difficult for many to recognize, I realized that the so-dressed up Santa was a familiar face I used to converse with every day. Ahah! He's was no one but our very bubbly and cute Chettan of the content team. Though sleek, he managed to don the attire of a customary Santa Claus and kept it going till the end with flair and confidence.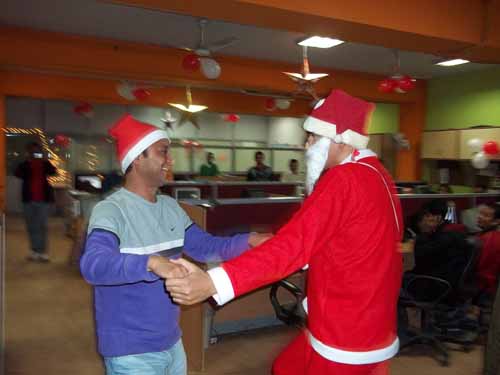 A few seconds took me to handle my senses and return back to consciousness. It seemed the entire team was in celebratory mood. Beginning with our COO, Dhirendra Tiwari shook not-one, not-two, but innumerable legs (and hands!) with our customized Santa. Adding to the fun and jolly atmosphere were the content team heads, Dharmendra Singh and Deepak Seth, not to forget senior pros like Neeraj, Gaurav & Preetika from the travel department. They, sure, proved to be a surprise packet for all youngsters. In joined, other colleagues and a series of different individual activities followed up. Dancing to peppy numbers, singing jolly songs, and mimicking the seniors formed the base of all the celebration.
The newbies were called on in the first place. The intro session gradually transformed into a light, yet amusing two-way conversation between Santa and the freshers. Seniors had their chance of becoming the centre of attraction soon after. Fun doesn't end when the environment is filled with mirth and joviality. A doze of hilarity raises the party mood to the next level. This was aptly executed by Mohit Bahl, when he was asked to drag in the reindeers for our very own Santa. Not before he rushed outside and pulled the imaginable animals in did we all realize what a picture-perfect act that was. Kudos to his instant humorous intelligence (or do we say a planned performance?)!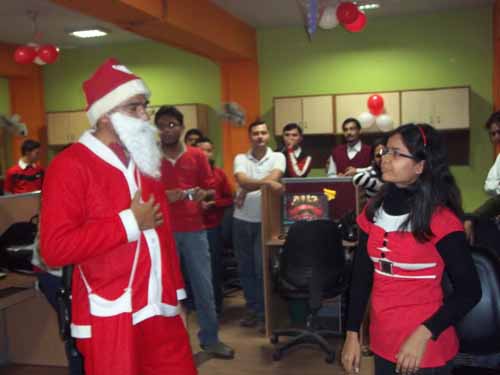 With every staff member being brought in the limelight, Santa couldn't let anyone move out empty-handed. Out came a handful of candies from Santa's bag for every individual. Well, for me, I was let free from shaking a leg or matching the melodious tunes. But alas, that didn't let me escape from the hands of the fat-bellied Santa. Asked to laugh out my heart and match the "Ho Ho" of Santa was a nerve-biting task. But, I did manage to carry off well, thus adding to the jolly ambiance. Steadily, every person got a chance to portray their capabilities (or rather weaknesses!). Last, but not the least, the young yet charming Santa distributed season gifts to the best dressed employees. Winners for the day were Amrita Barnwal, Archana Sharma, Nisha Rajpoot and Vishwa Prakash Malasi. Well, after all the laughter and wittiness came to an end, it was time to soothe our injured tummies (the hilarity sure did wound each one of us) with a doze of tempting ointments and refreshing syrups.
Along with our COO and the organizers, the 'Ho!Ho!' man came forward to cut the mouthwatering Christmas cake, designed aptly in the shape of a traditional tree, dotted with festive trinkets. As the last activity for the festive weekend, cake slices were served and enjoyed to the maximum. This was coupled with steaming-hot samosas and chilled soft drinks. The atmosphere was so captivating and compelling that the clock stroke past 7 pm in a flash of seconds. The show started wrapping up and the workplace was deserted in no time. Though the party came to an end here, but dude, the festival was yet to be celebrated. I walked out with my colleagues, delighted with happiness and contentment of being a part of a divine festival that recounts the life and works of a holy man. Jesus! Merry Christmas!