The other day someone asked me; now that Bharatonline has started its range of international packages, how confident are you about promoting foreign locations to Indians? I was prompt enough to tell him that being leaders in servicing international tourists to India, it was all about reversing the angles. Along with International tourists to India, it would now be servicing Indian tourists to International destinations!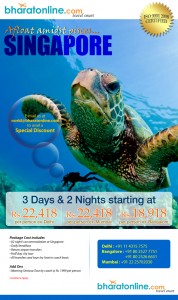 The service industry is never product driven; it is about building trust. Similarly the Hospitality trade, I believe is a people driven business, much like the film industry. In order to make a successful movie, there are a lot of things to keep in mind. But the one thing that moves like an undercurrent is the correct understanding of the audience. When you are making a movie for the youth of this generation; you should absolutely have a 'motivation quotient' running through and throughout. Gone are the days when college romance guaranteed a hit. Similarly I have personally seen the drift in tastes when it came to holidaying.  Holidaying today is no longer about nature watching and monument viewing. Neither does one like to be called a tourist today. Modern day 'holidayers' are highly informed and have an equally high taste for luxury. They are aware of what money can buy and they demand nothing but the best. Apart from demanding luxury, the avid traveler today needs an activity based vacation. Without a doubt, activities like parasailing, water-skiing, kayaking, snorkeling have become exceedingly popular. Today, holiday is more than a welcome break; it is a right you have earned to pamper yourself.
What India lacks in infrastructure, it makes up by a deluge of holiday options. However factors like private beaches, exotic resorts, modern architecture, discounted luxury retail, theme parks, would be reason enough for Indians to visit international destinations. Along with that, there is a host of beach activities, suave gambling options that makes destinations like South East Asia a hot favourite among Indian 'holidayers. 'Thus it becomes imperative for us to connect to the taste and outlook of our customers.
I have never believed that we sell holidays. I reckon we sell experiences and earn relationships. When creating our range of international packages, we did have our share of difficulties and so we waited till we were sure. And now I thought it was time, we globally shared our expertise to create international picture perfect moments.