The murky October sky, gave a wry smile as I landed in India's commercial capital, Mumbai. The moisture laden air and dark clouds tried hard to outdo the bustling energy that the city is so famous for.  Surprisingly, the euphoria of the city secretly undid the overcast conditions, and hummed a jubilant tune to itself.
I was here on business, but still a sense of vibrancy persisted within. I wanted to explore the city in its complete spectrum of colours.  The shorelines of Marine-drive, the skylines of Nariman Point, the dustbowls of Dadar, and the bargains of Crawford. The city not only welcomes you, but in no time makes you a vivid part of its hype and cynosure.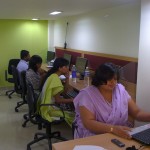 The early hours of the 3rd day of October saw me initiate the opening of the 3rd Bharatonline office, at the Powai Plaza Mall, Hiranandani Gardens in Powai".  It was this very reason that I was in Mumbai, and along with the help our new recruit and branch head Sheetal, we inaugurated it in no time.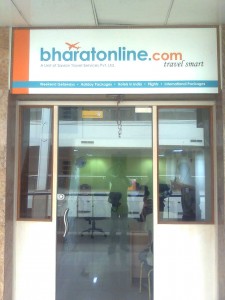 The location was selected such that it also encouraged people to walk-in and explore the hassle free service offerings. The commercial outlet had a seating capacity for 20 travel executives, with 5 of them already filled.
Since we had already planned about this property and done prior homework so getting started was a no-brainer. But clearly the toughest challenge was to contain the thought that I had to catch my evening flight back to Delhi. If Delhi is exuberant, Mumbai's charm simply bowls you over.  The Mumbai opium had started to take its effect in me and I had to give in to the magic before I made my way back. A silent walk on the Marine-drive, a local train ride to Colaba, & cutting loose at the "Three Flights Up" one of Mumbai's largest Discotheque, and finally Mumbai eased its grip on me.
The sad bit, I had to call it a day with Mumbai. The best bit… business will keep calling me back!