Reporting Live: Dreary looking bharatonliners are looking to work on a day that has been declared an optional holiday. The spirits seem a bit punctured, and the attitude starkly 'bleached' on a day where the nation is drenched in colours. We go live to the captain of sales. "Mr. Risto, you are a Christian from Kerala; why do you look so crestfallen? Risto": it's a national festival and I have always looked to celebrate it with equal pomp as Onam. At least it should have been declared a compulsory leave; we could have played Holi with our close ones. "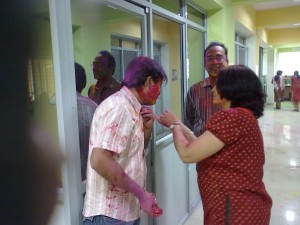 Alright, we have it directly from the horse's mouth that bharatonliners are clearly not captivated by the fact that they are working on a Holi day. Let's quickly turn our focus to the Content lead."Snigdha, Holi must be a big thing for you, back in Bihar, do you miss home"? "Well you can't complain now, can you? But I would be lying if I said that I don't enjoy playing Holi" There you go; we see that there is clear disappointment among the employees and we sincerely hope that the management takes notice of this. Ok back live, we now have with us the head of quality. "Namrata, how significant is Holi to you; you come all the way from Kolkata? Namrata: Well I ain't exactly the flashy Holi player sorts, but yes it is no doubt a special day. I would have actually enjoyed watching the children play in my society, and who knows (cracking a smile) I might have started playing with them!
Ok I guess we have enough footage to suggest that this Holi might be remembered by the bharatonliners as day of suppressed emotions. Alright, we see some movement towards the lobby, I guess, Sanjeev, our founder and CEO is making his way in. In fact he is waving at me. Oh it's the usual cup of morning tea that he wishes to have with me I guess.  I think, he would be the last person I would be interviewing today. Oh no what's happening, we now see our Co-founder Sanjay and his wife, soaked in colours is making a bee-line. This is a very belligerent move; I repeat a belligerent move on the part of the management. Our cameras are soaked in colours and you very well see that we are clearly in the line of fire. Now completely wet in colours, we are still trying to follow the action. Ok here's the trick. The Management is going around with a box of sweets and in return applying colour on every employee. Viewers are completely awestruck as Sanjeev and Sanjay go on a rampage, taking every employee in their colourful grasp. Ok back live in the lobby area, we have Kshitiz our designer, making his way in, with a complete arsenal of colours, and boy does he look in a mood for business. !!!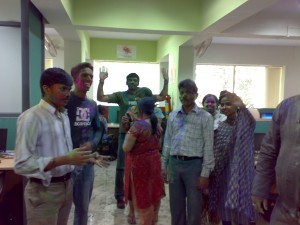 People, the visibility is poor, the gulals are clouding the office space. We are hearing occasional shrieks of employees as gallons of colours poured on each other. There is, I believe no sparing, I repeat no sparing, as every employee has joined in this unique deluge and celebration.
When I had made my way in the company last May, all I knew was that I was going to be associated with probably the fastest growing e-media association. Little did I know that like this Holi, my life too would be touched, nourished and coloured by a thousand emotions. Happy Holi to all of you, from this never-fail-to-surprise-you bunch of bharatonliners. Holi, I guess is truly, a celebration of unison.